Chris Pratt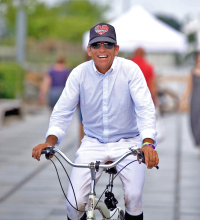 Birthplace: Toronto, Ontario
Birthdate: April 18, 1969
Hometown: Wellington/ Florida

Occupation: Full-time athlete and coach
Stable: Epic Stables
Coach: Self
Biography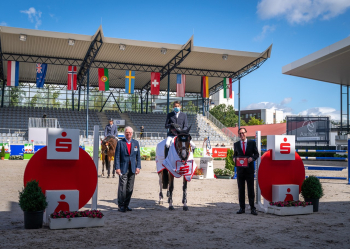 For Chris Pratt, it all began with four goats. After spending his first ten years in the city, Chris moved
to the country when his father inherited a farm north of Toronto. There were sheep, chickens, goats;
every type of farm animal except horses. Tired of hearing Chris ask for a pony, his father finally
relented, trading four goats for what would become a lifelong commitment for Chris.
In 1994, Chris made a name for himself by topping the Kanatek Talent Squad, a means of identifying
future members of the Canadian Show Jumping Team. It would prove to be an accurate predictor of
the future, as Chris soon scored his first grand prix victory in the $50,000 Audi Grand Prix at the 1997
Collingwood Horse Show riding Davos.
After operating his own training business, Performance Horses Unlimited, in Terra Cotta, ON, Chris accepted a full-time position riding for Susan Grange's Lothlorien Farm in 2004. The move propelled him onto the international stage, and he was named to Nations' Cup teams for the 2005 Spruce Meadows 'Masters' tournament in Calgary, AB, followed by the 2006 Winter Equestrian Festival in Wellington, FL, where he jumped double clear riding Mustique to clinch an important victory for Canada. Chris made his major games debut riding Rivendell at the 2006 FEI World Equestrian Games in Aachen, Germany.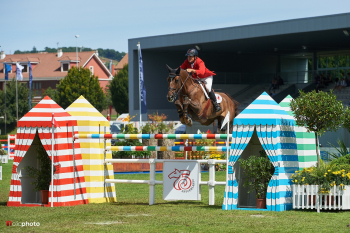 In 2007, the winds of change took Chris to sunny California where he built up an impressive clientele at his Epic Stables based in Los Angeles, then later in Rancho Santa Fe.
Representing Canada in the 2011 Gijon 5* Nations Cup, and the 2011 Barcelona 5* Nations Cup was key to keeping a focus on the top sport for Chris. While balancing coaching and quality horse sales with his own competitive pursuits, Chris won four grand prix events, including the $350,000 CSI5* Grand Prix, riding three different horses during the 2016 HITS Desert Circuit. That was quickly followed by a win in the $100,000 Grand Prix of Del Mar in May of 2016 with Concorde.

Maybe the biggest call to duty for the Canadian Equestrian Team came in 2017 when Chris and Concorde were selected for the Nations Cup Finals at 5*Barcelona alongside Eric Lamaze, Yann Candele, and Tiffany Foster. Canada led the competition after the first round.

Making the decision to continue to pursue the sport at its highest level, Chris spent the summer of 2018
in Europe and relocated Epic Stables LLC permanently to Wellington, Florida. While spending that winter in Holland, he achieved the life-long goal of competing at two iconic competitions: CSIO5* La Baule, France, where he was a member of the Canadian Nations' Cup team, and CSIO5* Rome, Italy, where he rode as an individual.

The next year was an important one as a permanent base in the Netherlands was secured. Located in Helmond, just outside of Eindhoven, "Stal Epic" is an ideally situated private show stable for producing high-level show-jumping horses and riders.

In addition to propelling his own career forward, Chris is also an accomplished trainer, coaching his students from Japan, Shota Ogomori and Kazuteru Kitai towards their Olympic dreams. Ogomori was silver medallist at the 2018 Asian Games as a member of the Japanese team.
Over fifty Grand Prix wins on eighteen different horses to date, Chris Pratt is ever passionate for competing and coaching at the highest level of International Show Jumping.
Competition Background
| | | |
| --- | --- | --- |
| 4th | 140cm Final CSIYH Vilamoura/POR | Escada |
| 1st | Ranking Class 150cm Two Rounds CSI4* Samorin | Concorde |
| 2nd | 140cm CSI4* Wellington/ USA | Luigi |
| 3rd | 140cm CSI3* Wellington/ USA | Luigi |
| 6th | €24,700 1.45m Sunday, CSI4* Samorin, SVK | Concorde |
| 8th | €200,000 Longines Nations' Cup, CSIO5* La Baule, FRA | Concorde |
| 6th | €40,000 Grand Prix, CSI3* Le Touquet, FRA | Concorde |
| 5th | $25,000 Grand Prix Series Final, CSI3*-W Del Mar International, CA | Zetro Sent |
| 3rd | $100,000 Longines World Cup, CSI3*-W Del Mar International, CA | Concorde |
| 6th | $10,000 1.40m Sunshine, CSI3*-W Del Mar International, CA | Zetro Sent |
| 3rd | $35,000 Grand Prix, Del Mar International Welcome Week, CA | Carnutelabryere |
| 8th | €1,250,000 Longines Nations' Cup Final, CSIO5* Barcelona, ESP | Concorde |
| 1st | €1,250,000 Longines Nations' Cup Final – Rd 1, CSIO5* Barcelona, ESP | Concorde |
| 4th | €80,000 Nations' Cup, CSIO5* Gijon, ESP | Concorde |
| 7th | $50,000 Grand Prix, Showpark Summer Classic, CA | Zetro Sent |
| 2nd | $25,000 Markel Insurance Grand Prix, Showpark Summer Classic, CA | Zetro Sent |
| 3rd | $216,400 Progress Energy Cup, CSI5* S. Meadows North American, AB | Concorde |
| 2nd | $25,000 Smartpak Open Prix, CSI3*-W HITS Thermal IV, CA | Cruise |
| 5th | $15,000 1.35m Electronic Vet Jumper, CSI3*-W HITS Thermal IV, CA | Zetro Sent |
| 10th | $36,500 Desert Classic, CSI3*-W HITS Thermal IV, CA | Cruise |
| 1st | $75,000 Purina Animal Nutrition Grand Prix, HITS Thermal III, CA | Concorde |
| 3rd | $25,000 Smartpak Open Prix, HITS Thermal III, CA | Concorde |
| 8th | $25,000 Smartpak Open Prix, HITS Thermal I, CA | Cruise |
| 9th | $1 Million AIG Grand Prix, HITS Thermal VIII, CA | Edesa's Basantos |
| 1st | $25,000 Smartpak Grand Prix, HITS Thermal VII, CA | Concorde |
| 2nd | $25,000 Smartpak Grand Prix, HITS Thermal VI, CA | Cruise |
| 3rd | $25,000 Smartpak Grand Prix, HITS Thermal VI, CA | Concorde |
| 2nd | $50,000 Osphos Grand Prix, HITS Thermal V, CA | Edesa's Basantos |
| 4th | $25,000 Smartpak Grand Prix, HITS Thermal V, CA | Edesa's Basantos |
| 10th | $100,000 Longines World Cup GP, CSI3*-W HITS Thermal IV, CA | Condorde |
| 10th | $36,400 Desert Classic, CSI3*-W HITS Thermal IV, CA | Cruise |
| 7th | $25,000 Smartpak Open Prix, CSI3*-W HITS Thermal IV, CA | Edesa's Chillando Blue |
| 1st | $350,000 Grand Prix, CSI5* HITS Thermal III, CA | Edesa's Basantos |
| 3rd | $100,000 Purina Nutrition Grand Prix, CSI5* HITS Thermal III, CA | Edesa's Basantos |
| 2nd | $65,500 Wilmington Trust Grand Prix, CSI5* HITS Thermal III, CA | Cruise |
| 9th | $65,500 Wilmington Trust Grand Prix, CSI5* HITS Thermal III, CA | Edesa's Basantos |
| 1st | $50,000 Brook Ledge Welcome Stake, CSI5* HITS Thermal III, CA | Concorde |
| 1st | $25,000 Smartpak Grand Prix, HITS Thermal II, CA | Cruise |
| 4th | $25,000 Smartpak Grand Prix, HITS Thermal II, CA | Edesa's Basantos |
| 7th | $50,000 Back on Track Grand Prix, HITS Thermal I, CA | Concorde |
| 9th | $25,000 Smartpak Grand Prix, HITS Thermal I, CA | Concorde |
| 6th | $15,000 1.45m UltrOz Jumper, HITS Thermal I, CA | Edesa's Basantos |
| 2nd | $15,000 1.35m Classic, CSI5* HITS National Sunshine II, CA | Carla de Kalvarie Z |
| 9th | $15,000 1.35m Classic, HITS National Sunshine II, CA | Edesa's Chillando Blue |
| 3rd | $15,000 1.35m Classic, HITS National Sunshine I, CA | Edesa's Chillando Blue |
| 4th | $15,000 1.35m Classic, HITS National Sunshine I, CA | Cruise |
| 10th | $30,000 Grand Prix, Blenheim June Classic I, CA | Pleasure de Riverland |
| 6th | $40,000 Grand Prix, Blenheim Spring Classic II, CA | Zetro Sent |
| 4th | $25,000 SmartPak Grand Prix, HITS Thermal VIII, CA | Zetro Sent |
| 3rd | $25,000 1.40m Grand Prix, Showpark Summer Classic, Del Mar, CA | Vanotrouska |
| 1st | $30,000 1.40m Grand Prix, Blenheim Red, White & Blue Classic, CA | Vanotrouska |
| 7th | $30,000 1.40m Grand Prix, Blenheim June Classic III, CA | Vanotrouska |
| 7th | $25,000 Markel Insurance Grand Prix, Blenheim June Classic I, CA | Zador |
| 8th | $25,000 1.40m Grand Prix, Showpark Ranch & Coast, Del Mar, CA | Let's Dance |
| 10th | $7,500 CashCall Jumper Futurity, All Seasons Summer Classic, CA | Angelique |
| 7th | $40,000 Summer Grand Prix, Showpark Summer Classic, CA | Poker de Virton |
| 2nd | $7,500 CashCall Jumper Futurity, Blenheim Spring Classic III, CA | Eveleigh |
| 8th | $5,000 Devoucoux Hunter Prix, HITS Thermal I, CA | Winston |
| 3rd | $5,000 Phelps Sports Hunter Derby, Del Mar Fall Festival I, CA | Winston |
| 1st | $30,000 August Festival Grand Prix, Showpark August Festival, CA | Wakyra |
| 1st | $200,000 Lamborghini Grand Prix, HITS Thermal VI, CA | Cruise |
| 1st | $25,000 Smartpak Grand Prix, HITS Thermal VI, Thermal, CA | Cruise |
| 4th | $53,000 World Cup Grand Prix, CSI2*-W HITS Thermal V, CA | Cruise |
| 4th | $6,000 Spy Coast Farm 1.40m, CSI2* WEF IV, Wellington, FL | Cruise |
| 7th | $8,000 G&C Farm 1.45m, CSI2* WEF III, Wellington, FL | Cruise |
| 7th | $6,000 Spy Coast Farm 1.40m, CSI2* WEF III, Wellington, FL | Cruise |
| 5th | $50,000 World Cup Grand Prix of Los Angeles, CSI2*-W Burbank, CA | Cruise |
| 4th | €100,000 Nations' Cup Promotional League, CSIO5* Barcelona, ESP | Cruise |
| 9th | €100,000 Grand Prix of Barcelona, CSIO5* Barcelona, ESP | Cruise |
| 10th | €63,600 Nations' Cup, CSIO5* Gijon, ESP | Cruise |
| 9th | $31,000 Scotiabank Cup, CSI4*-W Spruce Meadows Continental, AB | Cruise |
| 1st | $31,000 Husky Energy Cup, CSI4*-W Spruce Meadows Continental, AB | Cruise |
| 10th | $31,000 ATCO Pipelines Cup, CSI5* Spruce Meadows National, AB | G5 |
| 5th | $31,000 Prairie Mines Cup, CSI5* Spruce Meadows National, AB | Cruise |
| 6th | $100,000 Grand Prix of California, Ranch & Coast Classic, Del Mar, CA | Cruise |
| 1st | $100,000 Grand Prix of Del Mar, Del Mar National Horse Show, CA | Cruise |
| 9th | $25,000 SmartPak Grand Prix, HITS Thermal VI, CA | Cruise |
| 1st | $5,000 PCHA Jimmy Williams Classic, CSI2*-W HITS Thermal V, CA | G5 |
| 7th | $50,000 World Cup Grand Prix, CSI2*-W HITS Thermal III, CA | Cruise |
| 2nd | $31,000 HITS Welcome Classic, CSI2*-W HITS Thermal II, CA | Cruise |
| 3rd | $5,000 PCHA Jimmy Williams Classic, HITS Thermal I, CA | G5 |
| 1st | $30,000 Horsetrader Grand Prix, Del Mar International, CA | Cruise |
| 2nd | $15,000 Six-Year-Old Young Horse Western Final, Del Mar, CA | Carpendale |
| 6th | $25,000 Grand Prix, Showpark August Festival, Del Mar, CA | Union |
| 8th | $25,000 Grand Prix, Showpark August Festival, Del Mar, CA | G5 |
| 1st | $25,000 Grand Prix, Showpark Racing Festival, Del Mar, CA | G5 |
| 2nd | $25,000 Grand Prix, Showpark Racing Festival, Del Mar, CA | Cruise |
| 5th | $75,000 TD Cup, CSI5* Spruce Meadows North American, AB | G5 |
| 7th | $35,000 D-line Cup, CSI5* Spruce Meadows North American, AB | Union |
| 10th | $31,000 WestJet Cup, CSI4* Spruce Meadows Canada One, AB | Union |
| 3rd | $15,000 Birchcliff Energy Cup, CSI4* Spruce Meadows Canada One, AB | G5 |
| 4th | $60,000 Parcours de Chasse, CSI5* Spruce Meadows National, AB | G5 |
| 9th | $10,000 Shell Energy Cup, CSI5* Spruce Meadows National, AB | Cruise |
| 5th | $55,000 World Cup Grand Prix, CSI2*-W BC Open, Thunderbird, BC | G5 |
| 10th | $55,000 World Cup Grand Prix, CSI2*-W BC Open, Thunderbird, BC | Union |
| 7th | $50,000 Grand Prix of California, Del Mar, CA | G5 |
| 6th | $25,000 Surfside Grand Prix, Del Mar National Horse Show, CA | G5 |
| 2nd | $15,000 Five Bar, Del Mar National Horse Show, CA | Union |
| 3rd | $50,000 World Cup Grand Prix, CSI-W San Juan Capistrano, CA | Union |
| 7th | $50,000 World Cup Grand Prix, CSI-W San Juan Capistrano, CA | G5 |
| 3rd | $30,000 Royal Champion Classic, CSI-W San Juan Capistrano, CA | G5 |
| 4th | $30,000 Royal Champion Classic, CSI-W San Juan Capistrano, CA | Union |
| 2nd | $25,000 HITS Grand Prix, HITS Thermal VI, CA | Union |
| 3rd | $25,000 Purina Mills Grand Prix, CSI2*-W HITS Thermal IV, CA | Union |
| 5th | $25,000 Purina Mills Grand Prix, CSI2*-W HITS Thermal IV, CA | G5 |
| 9th | $25,000 Suncast 1.50m Classic, WEF I, Wellington, FL | G5 |
| 7th | $25,000 Welcome Grand Prix, CSI3*-W Rancho Murieta, CA | G5 |
| 4th | $25,000 Open Stake, CSI-W Los Angeles International, CA | G5 |
| 2nd | $25,000 Blenheim Summer Classic Grand Prix, San Juan Capistrano, CA | G5 |
| 5th | $25,000 August Festival Grand Prix, Del Mar, CA | G5 |
| 1st | $20,000 Tuboscope Challenge, CSI5* S. Meadows North American, AB | G5 |
| 3rd | $13,000 Bantrel Cup, CSI5* Spruce Meadows North American, AB | G5 |
| 1st | $12,000 Wolseley Cup, CSI5* Spruce Meadows North American, AB | G5 |
| 8th | $20,000 West Canadian Cup, CSI4* Spruce Meadows Canada One, AB | G5 |
| 3rd | $15,000 Rogers Sugar Challenge, CSI5* Spruce Meadows National, AB | G5 |
| 3rd | $35,000 Spring Classic II Grand Prix, San Juan Capistrano, CA | G5 |
| 3rd | $25,000 Open Welcome Stake, L.A. International Jumping Festival, CA | Green Sleepes Vioco |
| 4th | $50,000 World Cup Grand Prix, CSI-W Las Vegas National, NV | Green Sleepes Vioco |
| 10th | $25,000 Jumper Classic, CSI-W Las Vegas National, NV | Green Sleepes Vioco |
| 7th | $50,000 World Cup Grand Prix, CSI-W San Juan Capistrano, CA | Green Sleepes Vioco |
| 11th | $200,000 Invitational Grand Prix, HITS Championships, Thermal, CA | Airtime |
| 5th | $50,000 World Cup Grand Prix, CSI-W HITS Desert Circuit VI, CA | Lou Bega |
| 10th | $50,000 World Cup Grand Prix, CSI-W HITS Desert Circuit IV, CA | Airtime |
| 8th | $50,000 World Cup Grand Prix, CSI-W HITS Desert Circuit III, CA | Airtime |
| 2nd | $25,000 Ariat Grand Prix, HITS Desert Circuit I, Thermal, CA | Airtime |
| 5th | $50,000 L.A. National World Cup Grand Prix, Los Angeles, CA | Airtime |
| 2nd | $50,000 Las Vegas World Cup Grand Prix, CSI-W Las Vegas, NV | Royal Beach Faroa |
| 9th | $50,000 World Cup Grand Prix, CSI-W Del Mar International, CA | Royal Beach Faroa |
| 1st | $50,000 World Cup Grand Prix, CSI-W Oaks Blenheim Fall Classic, CA | Royal Beach Faroa |
| 2nd | $30,000 AON Reed Cup, CSI5* Spruce Meadows North American, AB | Royal Beach Farao |
| 1st | $25,000 Pepsi Challenge, CSI5* Spruce Meadows North American, AB | Conquest of Paradiso |
| 2nd | $20,000 ATCO Gas Cup, CSI5* Spruce Meadows North American, AB | Mademoiselle |
| 5th | $20,000 Tuboscope Cup, CSI5* Spruce Meadows North American, AB | Gerry the Grey |
| 8th | $75,000 Sun Life Financial, CSI5* Spruce Meadows North American, AB | Royal Beach Farao |
| 1st | $50,000 ESSO Challenge, CSI4* Spruce Meadows Canada One, AB | Royal Beach Farao |
| 4th | $50,000 RBC Financial Cup, CSI4* Spruce Meadows Canada One, AB | Royal Beach Farao |
| 3rd | $25,000 Friends of the Meadows Cup, CSI4* SM Canada One, AB | Sorento |
| 5th | $25,000 Friends of the Meadows Cup, CSI4* SM Canada One, AB | Conquest of Paradiso |
| 7th | $20,000 McDaniel Ass. Cup, CSI4* Spruce Meadows Canada One, AB | Conquest of Paradiso |
| 5th (tie) | $40,000 ATCO Structures Double Slalom, CSI5* National, AB | Rupert |
| 2nd | $25,000 Prairie Mines and Royalty Open Cup, CSI5* National, AB | Royal Beach Farao |
| 1st | $50,000 Mary's Tack and Feed Grand Prix, Del Mar, CA | Royal Beach Faroa |
| 2nd | $35,000 Las Vegas Spring Classic Grand Prix, Las Vegas, NV | Live Fire |
| 1st | $50,000 Antares Saddlery World Cup Grand Prix, CSI-W Del Mar, CA | Live Fire |
| 2nd | $30,000 Ariat Grand Prix, HITS Desert Circuit V, Thermal, CA | Live Fire |
| 6th | $30,000 Ariat Grand Prix, HITS Desert Circuit III, Thermal, CA | Live Fire |
| 10th | $25,000 Speed Derby, CSI-W Tournament of Champions, ON | Bequia |
| 2nd | $10,000 Mini Prix, CSI-W Tournament of Champions, ON | Bequia |
| 3rd | Ontario Six-Year-Old Championship, CSI-W Tournament, ON | Split Decision |
| 1st | Ontario Five-Year-Old Championship, CSI-W Tournament, ON | Unbelievable |
| 110th | Individual, World Equestrian Games, Aachen, GER | Rivendell |
| 13th | Team, World Equestrian Games, Aachen, GER | Rivendell |
| 3rd | €4,000 1.45m Big Tour, CSI2* Valkenswaard II, NED | Rivendell |
| 2nd | $10,000 Modified Grand Prix, Caledon Summer Festival, Palgrave, ON | Bequia |
| 1st | $125,000 CN Grand Prix, CSI3* Bromont, QC | Rivendell |
| 1st | $60,000 Kubota Cup Grand Prix, CSI3* Bromont, QC | Bequia |
| 3rd | $60,000 'Kubota' Big Ben Grand Prix, Capital Classic, Ottawa, ON | Rivendell |
| 9th | $20,000 Open Welcome Stake, Capital Classic, Ottawa, ON | Bequia |
| 5th | $70,000 World Cup Qualifier Grand Prix, CSI-W Blainville, QC | Rivendell |
| 5th | $20,000 Open Welcome, CSI-W Blainville, QC | Rivendell |
| 8th | $25,000 AltaGas Cup, CSI-W Spruce Meadows Continental, AB | Bequia |
| 4th | $20,000 Molson Cup, CSI-W Spruce Meadows Continental, AB | Bequia |
| 10th | $60,000 TransCanada Chasse, CSI5* Spruce Meadows National, AB | Bequia |
| 10th | $40,000 ATCO Midstream, CSI5* Spruce Meadows National, AB | Mustique |
| 10th | $35,000 RBC Capital Markets, CSI5* Spruce Meadows National, AB | Bequia |
| 3rd | $25,000 Luscar Cup, CSI5* Spruce Meadows National, AB | Mustique |
| 3rd | $25,000 ATB Financial Cup, CSI5* Spruce Meadows National, AB | Rivendell |
| 3rd | $10,000 Mercer Cup, CSI5* Spruce Meadows National, AB | Bequia |
| 1st | $50,000 Grand Prix, Caledon National, Palgrave, ON | Rivendell |
| 2nd | $20,000 Open Welcome, Caledon National, Palgrave, ON | Mustique |
| 6th | $20,000 Open Welcome, Caledon National, Palgrave, ON | Bequia |
| 7th | $20,000 Open Welcome, Caledon National, Palgrave, ON | Rivendell |
| 1st | $10,000 Open Welcome, Caledon National, Palgrave, ON | Bequia |
| 1st | Five-Year-Olds, Caledon National, Palgrave, ON | Unbelievable |
| 5th | $50,000 Grand Prix, Classic at Palgrave Phase I, Palgrave, ON | Mustique |
| 7th | $50,000 Grand Prix, Classic at Palgrave Phase I, Palgrave, ON | Rivendell |
| 1st | $20,000 Open Welcome, Classic at Palgrave Phase I, Palgrave, ON | Rivendell |
| 1st | $75,000 CN Nations' Cup, CSIO5* CN Wellington Finale, FL | Mustique |
| 1st | $5,000 1.40m, CSIO5* CN Wellington Finale, FL | Bequia |
| 1st | $1,500 Six-Year-Olds, CSI5* CN Wellington Open, FL | Split Decision |
| 2nd | $25,000 WEF Challenge Cup IV, CSI3* Florida Classic, Wellington, FL | Rivendell |
| 1st | $25,000 WEF Challenge Cup III, CSI3* Kilkenny Internationale, FL | Rivendell |
| 5th | $25,000 WEF Challenge Cup II, CSI3* Gold Coast Classic, FL | Rivendell |
| 6th | $60,000 Ricoh Big Ben Challenge, CSI-W Royal, Toronto, ON | Rivendell |
| 10th | $30,000 Jolera Gamblers Choice, CSI-W Royal, Toronto, ON | Bequia |
| 2nd | $55,000 Canadian Championships II, CSI-W Royal, Toronto, ON | Rivendell |
| 6th | $15,000 Canadian Championships I, CSI-W Royal, Toronto, ON | Rivendell |
| 3rd | Ontario Five-Year-Old Young Horse Championships, Palgrave, ON | Split Decision |
| 1st | $100,000 World Cup Qualifier, CSI-W Tournament of Champions, ON | Rivendell |
| 6th | $25,000 Speed Classic, CSI-W Tournament of Champions, Palgrave, ON | Rivendell |
| 6th | $40,000 CANA Cup, CSIO Spruce Meadows Masters, Calgary, AB | Rivendell |
| 1st | $50,000 World Cup Qualifier, CSI-W Collingwood Festival, ON | Rivendell |
| 1st | $10,000 Open Welcome, CSI-W Collingwood Festival, ON | Rivendell |
| 1st | $20,000 Open Welcome, CSI-W Summer Festival, Palgrave, ON | Rivendell |
| 7th (tie) | $60,000 World Cup Qualifier, CSI-W International Bromont, QC | Mustique |
| 7th (tie) | $60,000 World Cup Qualifier, CSI-W International Bromont, QC | Rivendell |
| 4th | $65,000 Big Ben Memorial Grand Prix, CSI3* Capital Classic, ON | Rivendell |
| 2nd | $20,000 Open Welcome Stake, CSI3* Capital Classic, Ottawa, ON | Mustique |
| 9th | $20,000 Open Welcome Stake, CSI3* Capital Classic, Ottawa, ON | Rivendell |
| 5th | $65,000 World Cup Qualifier Grand Prix, CSI-W Blainville, QC | Mustique |
| 6th | $25,000 Desjardin Modified Challenge, CSI-W Blainville, QC | Nero |
| 6th | $20,000 Welcome Stake, CSI-W Blainville, QC | Rivendell |
| 8th | $20,000 Welcome Stake, CSI-W Blainville, QC | Mustique |
| 3rd | $50,000 Grand Prix, Caledon National, Palgrave, ON | Mustique |
| 6th | $50,000 Grand Prix, Classic @ Palgrave, Phase 1, Palgrave, ON | Nero |
| 6th | $10,000 1.40m Acorn Hill Challenge, CSIO CN Wellington Finale, FL | Markant |
| 8th | $10,000 1.40m Acorn Hill Challenge, CSIO CN Wellington Finale, FL | Mustique |
| 8th | $7,500 1.45m, CSI*** Wellington Masters, FL | Nero |
| 1st | $1,500 Young Jumper 7 & 8-Year-Olds, CSI-W Lincoln Classic, FL | Mustique |
| 9th | $7,500 1.45m, CSI*** Kilkenny Internationale, Wellington, FL | Nero |
| 7th | $15,000 Canadian Championships I, CSI-W Royal, Toronto, ON | Nero |
| 7th | $15,000 Canadian Speed Championship, CSI-W Toronto, ON | Markant |
| 7th | $10,000 Francois Ferland Cup, Quebec City Horse Show, QC | Markant |
| 4th | $25,000 Speed Classic, CSI-W Tournament of Champions, ON | Markant |
| 2nd | $25,000 Collingwood Classic Grand Prix, Collingwood, ON | Markant |
| 7th | $25,000 Collingwood Classic Grand Prix, Collingwood, ON | Nero |
| 1st | $10,000 'Kubota' Open Welcome, Collingwood Classic, ON | Markant |
| 3rd | $10,000 'Kubota' Open Welcome, Collingwood Classic, ON | Nero |
| 3rd | $50,000 Collingwood Festival Grand Prix, Collingwood, ON | Nero |
| 5th | $50,000 Collingwood Festival Grand Prix, Collingwood, ON | Markant |
| 6th | $50,000 Alliance Grand Prix, Equestrian Festival, Palgrave, ON | Markant |
| 3rd | $10,000 'Kubota' Open Welcome Stake, Capital Classic, ON | Rivendell |
| 3rd | $60,000 World Cup Qualifier Grand Prix, CSI-W Blainville, QC | Markant |
| 1st | $20,000 Desjardins Modified Grand Prix, CSI-W Blainville, QC | Mustique |
| 5th | $15,000 Casino de Montreal, CSI-W Blainville, QC | Rivendell |
| 2nd | $15,000 CA Utilities, CSI Spruce Meadows Continental, AB | Markant |
| 3rd | $150,000 Direct Energy Grand Prix, CSI Spruce Meadows, AB | Rivendell |
| 5th (tie) | $40,000 ATCO 1.50m, CSI Spruce Meadows Nat'l, Calgary, AB | Markant |
| 1st | $40,000 Caledon National Grand Prix, Palgrave, ON | Markant |
| 1st | $40,000 Grand Prix, Classic @ Palgrave Phase 1, Palgrave, ON | Markant |
| 8th | $40,000 Grand Prix, Classic @ Palgrave Phase 1, Palgrave, ON | Rivendell |
| 3rd | $10,000 Open Welcome, Classic @ Palgrave Phase 1, ON | Markant |
| 5th | $10,000 Open Welcome, Classic @ Palgrave Phase 1, ON | Rivendell |
| 1st | $10,000 Modified Grand Prix, Classic @ Palgrave Phase 1, ON | Ishan |
| 2nd | $25,000 WEF Challenge, CSIO**** Wellington Finale, FL | Rivendell |
| 4th | $10,000 1.50m Classic, CSIO**** Wellington Finale, FL | Rivendell |
| 1st | $20,000 1.50m Classic, CSI*** Wellington Kilkenny, FL | Rivendell |
| 4th | $7,500 1.45m, CSI** Wellington Classic, FL | Ishan |
| 10th (tie) | $75,000 World Cup Qualifier, Tournament of Champions, ON | Markant |
| 4th | $25,000 Canada Cup Phase 1, Tournament of Champions, ON | Rivendell |
| 1st | $25,000 SPCG Grand Prix, Collingwood Classic, ON | Markant |
| 5th | $25,000 SPCG Grand Prix, Collingwood Classic, ON | Rivendell |
| 5th | $35,000 Casino du Lac-Leamy Derby, Capital Classic, ON | Markant |
| 1st | $5,000 Modified Jumper Grand Prix, Capital Classic, ON | Rivendell |
| 1st | $2,500 Open Jumper Power and Speed, CSI-W Blainville, QC | Ishan |
| 1st | $2,500 Open Jumper, CSI-W Blainville, QC | Markant |
| 1st | $5,000 Modified Grand Prix, Summer Classic, Palgrave, ON | Markant |
| 1st | $5,000 Modified Grand Prix, Classic at Palgrave – Phase 2, ON | Markant |
| 1st | $10,000 Caledon Open Welcome, Palgrave, ON | Markant |
| 1st | $25,000 MASCUP Grand Prix, Atlanta Spring Classic II, GA | Ishan |
| 10th | $25,000 MASCUP Grand Prix, Atlanta Spring Classic II, GA | Markant |
| 1st | $5,000 Modified Grand Prix, Collingwood Classic, ON | Ishan |
| 5th | $5,000 Modified Grand Prix, Collingwood Classic, ON | Markant |
| 7th | $5,000 Modified Grand Prix, Equestrian Festival, Palgrave, ON | Markant |
| 7th | $20,000 Novartis Horse-Dog Relay, CSIO Royal, Toronto, ON | Pariska |
| 10th | $10,000 Open Jumper Classic, CSIO Royal, Toronto, ON | Chequers |
| 2nd | $10,000 Six-Year-Old National Championship, CSIO Toronto, ON | Glory B |
| 10th | $25,000 Canada Cup Grand Prix, Tournament of Champions, ON | Chequers |
| 7th | $50,000 CIBC Grand Prix Presented by Jaguar, Collingwood, ON | Chequers |
| 3rd | $10,000 Open Jumper Welcome Stake, Collingwood Classic, ON | Chequers |
| 8th | $5,000 Modified Grand Prix, Caledon Equestrian Festival, ON | Chequers |
| 3rd | $5,000 Welcome Stake, Halton Valley Mid-Summer Classic, ON | Chequers |
| 4th | $5,000 Modified Grand Prix, Caledon National Horse Show, ON | Chequers |
| 1st | $20,000 Premier Grand Prix, Golden Triangle, Kitchener, ON | Davos |
| 8th | $20,000 Inland Cup, CSI-W Spruce Meadows National, AB | The Lion King |
| 9th | $17,500 Zeidler Forest Industries Cup, Spruce Meadows Nat'l, AB | The Lion King |
| 5th | $25,000 Grand Prix of Caledon, Caledon Nat'l Horse Show, ON | The Lion King |
| 11th | $100,000 Treatwells Grand Prix, HITS V Ocala Winter Finals, FL | The Lion King |
| 5th | $15,000 Ariat Dash For Cash, HITS III Ocala Masters, FL | The Lion King |
| 1st | $2,500 Open Jumper Welcome, HITS III Ocala Masters, FL | The Lion King |
| 6th | $15,000 Ariat Dash for Cash, HITS II Ocala Winter Festival, FL | The Lion King |
| 5th | $35,000 Spillers Seminole Grand Prix, Ocala Winter Festival I, FL | The Lion King |
| 4th | $20,000 'Program' Canine/Equine Challenge, CSIO Royal, ON | The Lion King |
| 8th | $25,000 George Weston Int'l Relay, CSIO Royal, Toronto, ON | The Lion King |
| 1st | $5,000 Grand Prix, Fall Finale, York Equestrian Centre, ON | The Lion King |
| 3rd | $25,000 Gerling Global Classic, Halton Valley Classic, ON | Davos |
| 4th | $20,000 Equi-Fest Grand Prix, Equestrian Festival, Palgrave, ON | The Lion King |
| 4th | $30,000 Power Derby, CSI-W Capital Classic, Nepean, ON | Davos |
| 4th | $10,000 Premier Grand Prix, Kitchener, ON | The Lion King |
| 5th | $50,000 Grand Prix, Forest City Show Jumping, London, ON | Davos |
| 1st | $50,000 Audi Grand Prix, Collingwood Horse Show, ON | Davos |
| 9th | $20,000 Veritas Power Derby, Capital Classic, Nepean, ON | Davos |
| 9th | $19,500 Inland Cup, Spruce Meadows National, AB | Davos |
| 3rd | $20,000 Classic Grand Prix, Classic at Palgrave Phase I, ON | Davos |
| 1st | $15,000 Swiss Bank Puissance, Royal Winter Fair, Toronto, ON | Davos |
| 5th | $100,000 Grand Prix, Halton Valley, Milton, ON | Davos |
| 1st | $30,000 Friendship Festival Grand Prix, Fort Erie, ON | Davos |
| 5th | $30,000 Friendship Festival Grand Prix, Fort Erie, ON | Sir Damion |
| 4th | $20,000 Caledon Grand Prix, Palgrave, ON | Davos |
| 5th | $25,000 Brandon Grand Prix, Brandon, MB | Davos |
| 4th | Kanatek National Talent Squad | Davos |
| 1st | $20,000 Oktoberfest Grand Prix, Halton Hills, ON | Davos |
| 2nd | $20,000 Oktoberfest Grand Prix, Halton Hills, ON | Las Vegas |
| 1st | $25,000 Kitchener Grand Prix, Kitchener, ON | Davos |
| 2nd | $25,000 Collingwood Classic, Collingwood, ON | Davos |
| 3rd | $25,000 Collingwood Classic, Collingwood, ON | Las Vegas |
| 1st | $30,000 Fort Erie Grand Prix, Fort Erie, ON | Las Vegas |
| 1st | $25,000 Brandon Grand Prix, Brandon, MB | Lasando |
| 1st | National Talent Squad | Lasando |
| | $2,000 Firestone Development Scholarship | |
| 2nd | $50,000 World Cup Qualifier, Royal Winter Fair, Toronto, ON | Lasando |
| 6th | $50,000 World Cup Qualifier, Capital Classic, Ottawa, ON | Lasando |
| Bronze | Team, North American Young Riders' Championship | Taxi |